Estate of longtime Jacksonville resident, store owner & entrepreneur, Don Wendt.
ANTIQUE COLLECTOR, COIN DEALER, NEWSPAPER MAN, POLITICIAN, HISTORIAN, ROCK HOUND, EDUCATOR, JEWELRY MAKER & RAILROAD MAN.
2338 S. Pacific Hwy., Medford       Friday 11/6 and Saturday 11/7      9am-4pm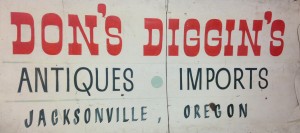 Incredible quantity of antiques & collectibles & whatnots! If you ever wanted to know what Don had in those two buildings on California St. in Jacksonville, now is the time to find out! It is all for sale. Everything has been moved to our warehouse to make it easy to view and purchase.
Mining collectibles. sluice boxes, gold pans, Vintage toys, Hot wheels, Matchbox, Star Trek, The Simpsons, 1/18th scale classic cars, Nascar toys, Brewerania, dozens of vintage beer trays, IRTP antique beer bottles & cans, beer coasters, clocks, beer advertising, beer signs including neon, Antique soda and pop bottles: dozens of vintage ACL bottles, Old soda crates, Coca-Cola collectibles, Tobaccoania, old tobacco tins, old tobacco signs, lighters, Vintage HO trains & train accessories, Custom Penny Pressing machine with multiple local dyes, Lots of Casino & Gambling collectibles from Las Vegas & Reno, Vintage Wildcat gambling machine, Hundreds of vintage Jim Beam bottles, Advertising signs, Vintage 8mm movie cameras and projectors, Vintage still cameras, Antique typewriters, Local welded steel sculptures, Lapidary equipment including Cab Machine, Rock saw, Foredom CC flex shaft tool, buffing wheels, lots of jewelry making hand tools, jewelry scales, jewelry findings, Tons of stones, cabs, rocks & minerals, Collectible coin holders, Thousands of antique postcards – mostly Oregon, Tons of paper ephemera including newspapers dating back to 1870's, lots of local ephemera, Music albums, 45's, eight tracks, Books, Paintings & prints, Jewelry, Miniature shoe collection, Flags, Tools
Tons & tons of items!!!!